ADVANCED LAP-BAND CENTER
Surgical Center for the Treatment of Morbid Obesity
Louis Fox, M.D., F.A.C.S.
Medical City Hospital, Dallas, Tx. 75230
phone 972.566.4560 – fax 972.566.6239 laparoscopic gastric banding
ABOUT US
Our goal is to treat patients the way we would like to be treated ourselves. We offer brief waiting periods, prompt return of your telephone calls and emails, strict confidentiality and honest answers to your questions. Above all, there is an atmosphere of warmth and caring throughout our office.
Personal attention, availability and quality care with state of the art services are our utmost priorities. You can be assured of a complete description of available choices and options tailored to meet your individual needs.
Louis Fox, M.D., F.A.C.S.
Dr. Fox has maintained a busy practice in the North Dallas Area since 1981. Born and raised in Baltimore, Md., Dr. Fox obtained his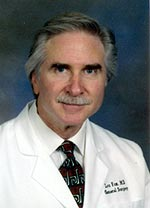 undergraduate and medical degrees at the University of Maryland. He finished his general surgery residency at the Wayne State University/Detroit General Hospital in 1980 followed by a Fellowship in peripheral vascular surgery at Baylor University Medical Center in Dallas. Subsequently trained in bariatric surgery, Dr. Fox limits weight loss surgery only to the Laparoscopic Adjustable Gastric Band, otherwise known as the Lap Band.
Dr. Fox is presently a member of the following medical societies and professional organizations:
American Board of Surgery
American Society of General Surgeons
American College of Surgeons (ACS)
American Society for Bariatric Surgeons (ASBS)
Dallas County Medical Society
General Surgery Association of North Texas (GSANT)
North Texas Chapter, American College of Surgeons
Society of American Gastrointestinal Endoscopic Surgeons (SAGES)
Society of Laproendoscopic Surgeons (SLS)
Texas Medical Association
Board Certified
Dr. Fox is certified by the American Board of Surgery and is a Fellow of the American College of Surgeons (F.A.C.S.). This is the highest recognition that your doctor has specialized knowledge and training related to the pre-operative evaluation and diagnosis, operative technical skills/ability and post operative management of surgical problems. It is also just as important to know when not to operate and treat with a medical nonsurgical approach – some of the best surgery is nonsurgical! At the same time, if an operation is indicated, good judgment is necessary to recommend the appropriate operation for the individual that will give the best results.